[row]
[col size="12″]
[text_widget]
[heading element="h2″]OUR PHILOSOPHY[/heading]
[lead_text]
Great service, great food and great drink is not enough. We create an experience. We are a feeling. We are all of the above.
[/lead_text]
[dropcap]W[/dropcap]e were inspired to create Ocean Blue, at a time when the city of Utica's revival is full steam ahead. We are a neighborhood restaurant, passionate about our soon to be guests, food, and our city. We want to create an atmosphere that makes you feel at home when dining in, no matter where you're from, or where you're going. Whether it's your first date, a business luncheon, family Sunday brunch, or before a hockey game, ALL are welcome. We won't have room at our tables for pretense, no room for cutting corners in our kitchen, but plenty of room on our rooftop for some good ol' fashioned fun. If you're in a suit and tie, jeans and t-shirt, or the same outfit you wore last night, you deserve a classic, crafted cocktail, a buzzing atmosphere to drink it in, and a kick-ass meal. Oh, and the view, that doesn't suck either.
[/text_widget]
[separator][/separator]
[heading element="h2″]Q&A[/heading]
[text_widget]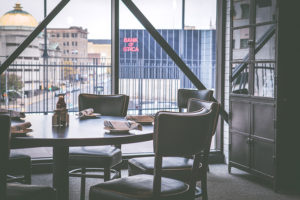 At Ocean Blue we take our food seriously, but not ourselves. We are inspired to create a dining experience where our guests feel welcome and at home in our inviting setting to enjoy quality food, and warm hospitality. Borrowing influence from our most favorite era and styles, Ocean Blue's interior boasts a mix of elegant black and white décor, a large copper bar, and floor to ceiling windows that offer a panoramic view of our city. Perhaps the most striking feature is our vast, open kitchen that allows guests to watch the culinary team in action, preparing our signature dishes. We cook the food, and craft the drinks that make us happy, and we want to extend to you the same feeling.
WHAT EXACTLY IS OCEAN BLUE? A BAR? A RESTAURANT? A ROOFDECK?
Those are what we have…we have a full kitchen, a huge bar, a massive roofdeck, and a pretty sweet seafood menu. What we are is a dining experience. We've taken all of the elements we feel should go into creating a restaurant for everyone, no matter the age, and no matter the occasion, and come up with Ocean Blue; well executed, approachable cuisine at a moderate price, on top of a roof. I guess you could say we're "all of the above."
I SEE WHAT YOU DID THERE, BUT YOU SAID SEAFOOD, WHAT IF I DON'T EAT IT?
No need to worry! Our menu focuses on seafood, but encompasses everything else from steaks, chicken, fried stuff, and vegetarian options, to ridiculous desserts.
CAN I BRING MY KIDS HERE?
We love kids. Bring 'em in…our kids menu is no joke.
WILL YOU BUY LOCAL?
Whenever we can. If you check out our "Things We Love" page, you will get a feel for our belief in keeping it local.
WHEN CAN I GO HERE?
7 Days a week.
COOL, CAN I GET BREAKFAST?
Sunday Brunch will start at 11am.
WHAT SHOULD I WEAR?
This isn't a country club, but it's not a dance club either…you have sneakers? Wear 'em. You have a suit? Wear that, too. Whatever you're comfortable in, keep it cool. Our only requirement is your smile.
THE PLACE IS HUGE, WHO DID ALL OF THIS?
Ocean Blue was built by Pezzolanella Construction Company, and designed by the team at KOLBY Hospitality.
YOU'RE ON A ROOF, HOW DO I GET THERE?
There is only one way to go…up…through our elevator…clearly marked in our lobby.
WHERE CAN I PARK?
We have a pretty big parking lot, and we also validate at the Radisson Parking Garage.
YOU SAID YOU HAVE A BAR, WHAT KIND OF DRINKS DO YOU HAVE?
We offer an extensive wine menu, crafted classic & unique cocktails, nice beers, and some good bubbly. If you're looking for a laundry list of beers, we don't have it…but we've got something for every taste.
CAN I EAT AT YOUR BAR?
You know it!
WHAT IF I WANT SOME PRIVACY?
Ocean Blue has 2 different private dining rooms; a large private dining room, that can fit up to 70 people, an intimate Chef's Table that seats 8, and the option to rent out the entire roofdeck, or the entire restaurant.
WHAT'S A CHEF'S TABLE?
It's our private table…that sits in the kitchen…served by the chef…where all the action is. Book it and find out.
[/text_widget]
[/col]
[/row]
[separator size="50″][/separator]